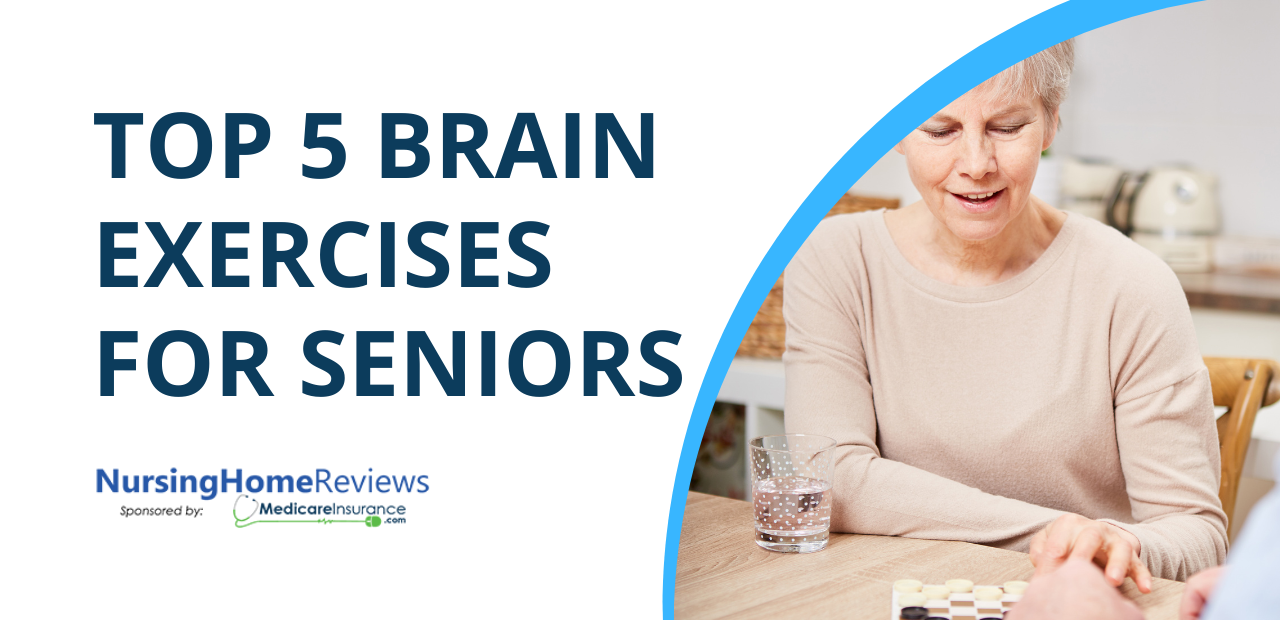 What is the importance of mental stimulation for seniors?
When it comes to leading a healthy lifestyle, many people go straight to the physical health of the body. While clean eating and proper physical exercise is undoubtedly important for everyone, seniors can especially benefit from mental workouts, like brain training, cognitive games, and memory exercises.
Recent research has shown that age plays a major role in the decline of memory and cognitive ability. Luckily, however, there are also many ways one can work on maintaining their faculties as they enter into their golden years. For the most part, these techniques focus on improving neuroplasticity.
Looking for a great place to engage socially as you age?
Start your search for the ideal nursing home, assisted living facility, or retirement community today.
REGISTER HERE
What is neuroplasticity and how can you strengthen it?
Basically, neuroplasticity is an umbrella term that refers to the brain's ability to modify, change, and adapt both its function and structure throughout one's entire life. 
At one point in time, most researchers believed that the brain's ability to grow and learn was a hardwired, finite element unique to one's own genealogical make-up and personal background. In recent years, however, research has revealed that the brain can, and should, continue to change and reorganize as we live our lives well past our formative years.
Engaging the brain and encouraging neuroplasticity can improve the lives of older adults in many ways, ensuring that you are able to stay sharp and attentive well after retirement. The most effective areas in which neuroplasticity can be improved include the following:
Attention

Perception

Memory

Processing Speed

Reasoning
Of course, all of these elements are extremely important throughout one's entire life, but especially during our senior years, when conditions like Alzheimer's disease and dementia are all too prevalent. This is why proper brain training is so vital for older adults. Courtesy of Nursing Home Reviews, check out the top five brain exercises for seniors!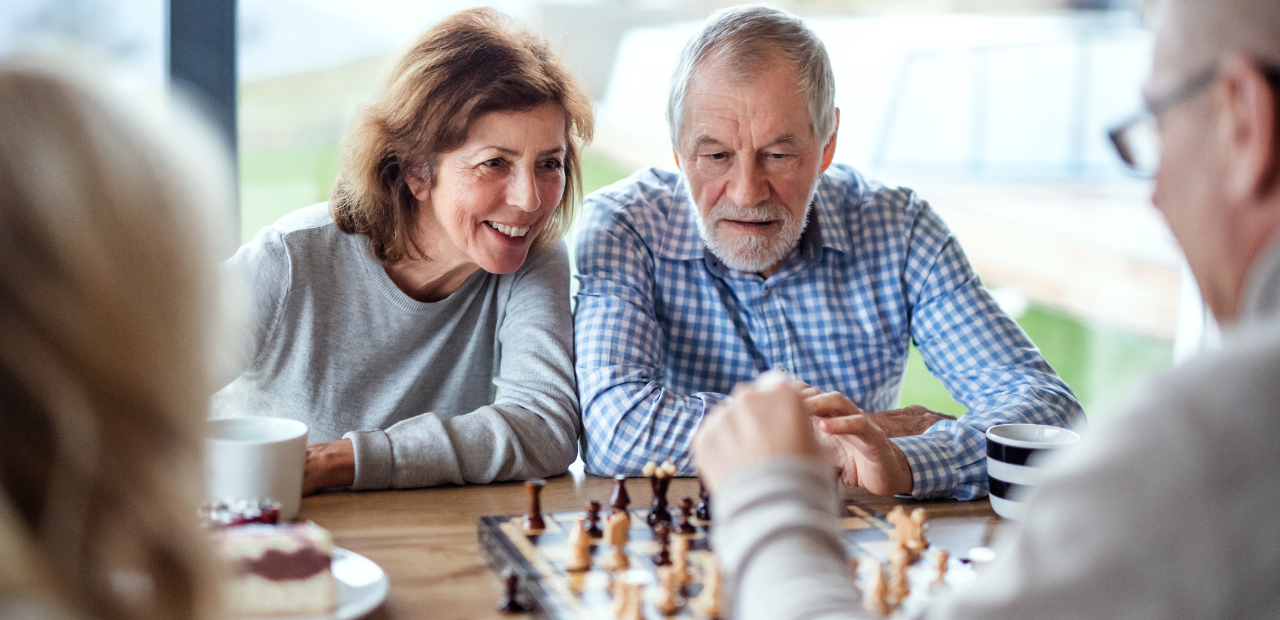 What are the best brain exercises for older adults?
Meditation
Although many people view it as a sort of "new age" approach to mental health, there is a great deal of evidence to support the claim that meditation is one of the best brain exercises for seniors.
Meditation allows for ultimate relaxation and focus, with a keen emphasis on carefully controlling one's own thoughts and emotions. While meditation can be achieved on your own at home, in today's society, there are many great tools and resources targeted at teaching and encouraging health meditation, including classes, apps, and written guides.
Arts, Crafts, and Hobbies
For many generations, art has been considered a fantastic way to express one's emotions, thoughts, and ideas using a physical medium. Classic art activities like watercolor painting, sculpting, sketching, or crafting are all great examples of activities that possess the proven benefit of keeping your mind sharp and your coordination strong.  
Additionally, according to the National Institute on Aging, those who engage in frequent hobbies, whether it be collecting, journaling, or art-based activities like photography, sewing, or playing music, report being happier and healthier.
Card Games and Board Games
Brain games that rely on memory and strategy are always a great choice for seniors when it comes to mental exercise. These days, there is a virtually endless amount of deck-based card games and board games to choose from, and each of them range in difficulty, theme, and length of play.
Classic card games like solitaire, bridge, and rummy are fantastic options, as well as non-traditional card games like Concentration, Apples to Apples, and Flinch can improve coordination and critical thinking substantially Even tried-and-true strategy games like chess and checkers, which require the player to utilize reasoning and forethought, are extremely stimulating in a fun and engaging way.
Jigsaw, Logic, and Word Puzzles
Puzzles are one of the oldest forms of mental stimulation on Earth. Whether you're working on a traditional jigsaw puzzle, word-based puzzles like crosswords and word searches, or logic puzzles like Mahjong or Sudoku, the problem-solving, pattern recognition, and attention to detail skills they exercise are especially important for seniors.
Games and puzzles like these can often be found in paper, handheld electronic, or virtual form, and are usually quite easy and inexpensive to acquire. With low costs, varying degrees of difficulty, and significant accessibility, word games, logic puzzles, and jigsaw puzzles are always a fantastic choice for the senior in your life.
Some jigsaw puzzles can even be completed virtually! Click right here to complete this fun puzzle courtesy of MedicareInsurance.com.
Thoughtful Conversations
Sometimes, the best mental exercises for seniors require no equipment and are completely expense-free. Since the earliest incarnation of spoken language came into existence, thoughtful conversation has allowed people to practice speaking, engage in critical thinking, share perceptions, thoughts, and ideas, and stimulate cognitive ability in so many refreshing ways.
In modern times, you'd be hard pressed to find a senior who isn't open to a great conversation. As we age, we unfortunately tend to withdraw from social interaction. A thoughtful conversation with a friend, loved one, or even a complete stranger can sometimes be incredibly refreshing.
Ready to find your new community?
Check ratings and violations for hundreds of local facilities today.
REGISTER HERE
Supporting Senior Health: The Importance of Engagement and Attention
The cognitive experiments, games, and exercises listed above not only allow seniors to maintain and improve everyday brain function, but they may also provide opportunities for key social interactions that can help alleviate the feelings of loneliness, isolation, and boredom that often plague older adults.
In a nursing home, assisted living facility, or retirement community, this is often especially necessary. Luckily, there are many great locations and organizations that place a strong emphasis on the mental and social well-being of seniors. 
At Nursing Home Reviews, you can unlock access to reviews, records, and ratings of hundreds of local facilities in an effort to find the best fit for you. Get started today simply by signing up for an account!