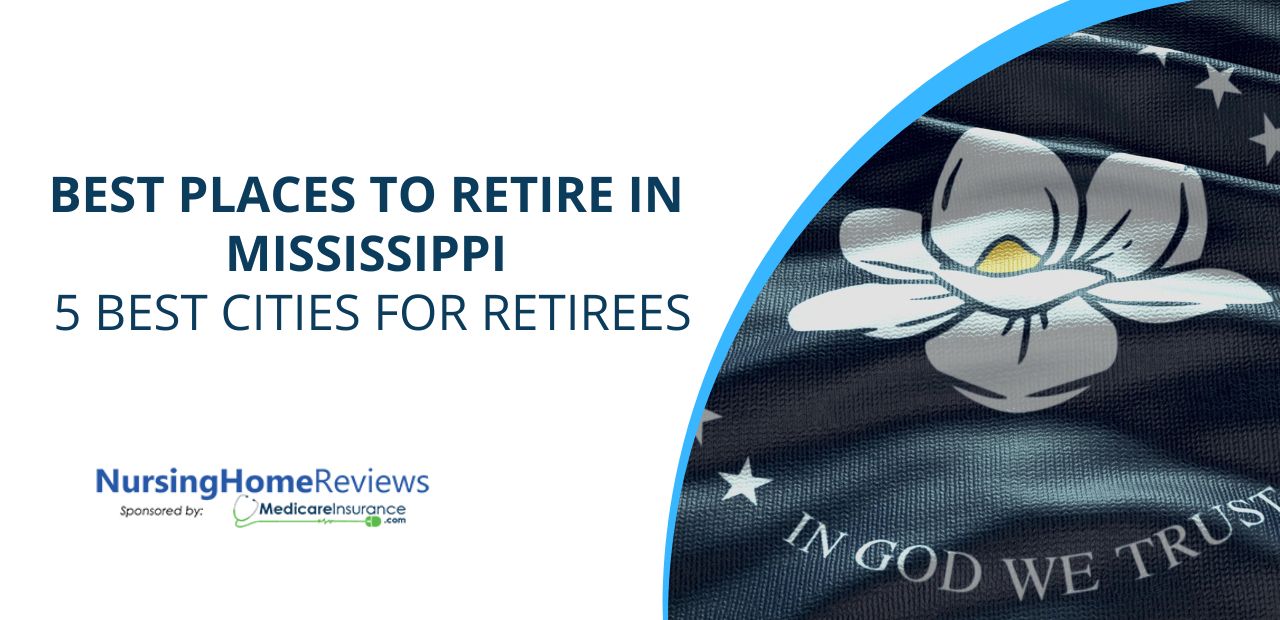 There's More to Mississippi Than Meets the Eye.

Mississippi is definitely the state that is most fun to spell, but is it one of the best places to retire? According to the numbers, the Magnolia State is looking pretty great. Read on to learn more about the best places to retire in Mississippi, and why we think the 20th state is an excellent place to plant your roots.
Mississippi by the Numbers
When it comes to affordability, it's hard to do better than Mississippi: the overall cost of living is approximately 21 percent below the national average, with housing costs alone being over 51 percent lower. That means your retirement fund will go leagues further than it would in more expensive states like Florida or Hawaii. Tax laws are also extremely friendly toward seniors: retirement income of all sorts is exempt from taxation, and property taxes are among the lowest in the country.
Unfortunately, one of the most important senior services is severely lacking in Mississippi: healthcare. Mississippi is ranked 49th in the nation in healthcare by America's Health Rankings but is also cited as the state with the most room to improve regarding senior care. The low ranking is due to a variety of factors, largely economic in nature, though the scope of the critique goes far beyond clinical care and includes factors such as average levels of physical activity and vaccination rates. 
Still, even with a shoddy record for health outcomes, the affordability of the state, combined with its pleasant weather and scenic environments, makes it a tempting option for many retirees. Nearly 1-in-3 Mississippi residents are above the age of 50, with that number trending higher at a faster rate than most other states. By 2030, a full quarter of the state's residents are expected to be 60 or older, which means a large retirement cohort and big incentives to provide senior-friendly services. In short, Mississippi is a state with a lot of room to grow. 
With that in mind, we've combed the web for five of the best cities to retire in Mississippi, based on factors like cost of living, access to transport, and a lot more. Let's get started.
1. Clarksdale
If you love the blues, you'll love Clarksdale. According to legend, blues legend Robert Johnson met the devil at the crossroads here, trading his soul for his legendary skill in music. You won't meet any devils here, though. Just a rich musical history and an affordable cost of living. With three nearby hospitals and a relaxed atmosphere, a retirement in Clarksdale won't have you singing the blues.
2. Biloxi
Called the Atlantic City of the South, this coastal town is a bit more expensive than the Mississippi average due to high insurance costs but is still well below the national average. Biloxi's location also makes it a popular site for festivals and events, meaning there's never a shortage of activities here. Be sure to apply for a fishing license, since the nautical life out here is top-notch.
3. Yazoo City
Top of our list of "cities with names that are fun to say", Yazoo City is known as the Gateway to the Mississippi Delta, Yazoo City is centrally located between gorgeous campgrounds, including Wolf Lake and Delta National Forest. Even if you're not an outdoorsy type, you might fall in love with the vibrant small town feel of Yazoo, with its brightly colored main street and collection of local shops and restaurants. The town is also highly affordable, with a median home value of under $100k. 
4. Clinton
If you're looking for things to do, then college towns are the place to be. Clinton is no exception, serving as the home of Mississippi's oldest college. Clinton is also a certified retirement city, offering activities and amenities specifically aimed at the senior set, like fitness classes and workshops. Though more expensive than average for the state, this small college town has a whole lot to offer. 
5. Indianola
Indianola has a lot of claims to fame: being the home of George Washington Carver and the pre-stardom workplace of blues legend B.B. King. However, the city's current claim to fame is its annual hot air balloon festival: the National Balloon Classic. In fact, ballooning is a big part of Indianola's local charm, as the city is the hub for balloon pilots around the country. 
Of course, Indianola offers a lot more than just a sky full of colorful balloons: located close to Des Moines. Indianola is also the site of many its larger neighbors' events, including its annual opera festival. Nearby Simpson College holds smaller events throughout the year, while the city itself is home to beautiful gardens and breathtaking views. Not an outdoorsy type? The city also has widespread access to gigabit internet, making it an attractive spot for the technically inclined.
Get the information you need.
Ratings, reviews, violation records. We've got it all here.
REGISTER HERE
No matter where you choose to live, if you eventually need a nursing home, we can help. Our free app, available on iOS and Android, can give you up to date information on ratings, reviews, and violation records for nursing homes nationwide! Download it today, or enter your zip code to begin your search.