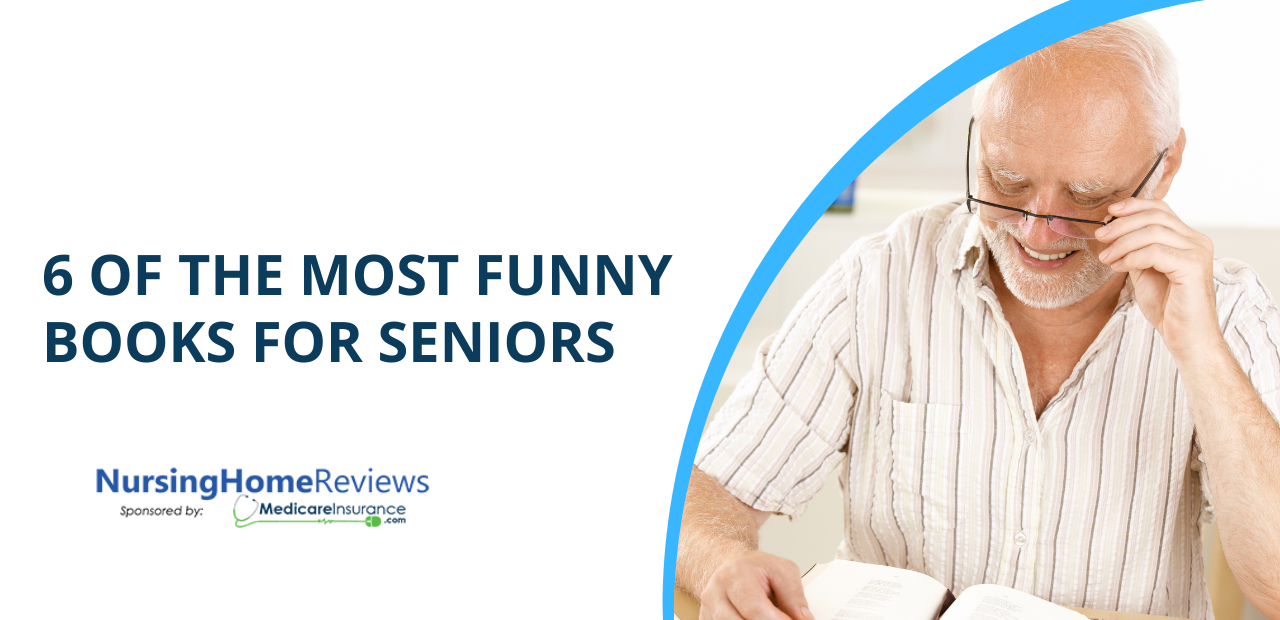 Need a laugh?
There are a lot of book lists for seniors out on the internet. Carefully curated lists of thoughtful reflections on life and aging. Serious dramas starring senior characters involved in dramatic relationships, solving family mysteries, and gazing longingly into the middle distance as they reflect upon their long and fulfilling lives.
This is not one of those lists. In fact, this is an extremely irreverent list of comedic books for seniors, future seniors, and people who just like funny books. In fact, only a few of the books on this list have anything to do with aging, because true humor transcends age. A laugh, at any age, brings us to a point of timeless elation and joy. It uplifts us, invigorates us, floods us with endorphins to improve our mental health and immune response. What better criteria for selection could there be than that?
If you're an avid reader interested in comedy, you may have searched "funny books for seniors" and come across countless self-published memoirs about bridge clubs that only have six 5-star reviews (all of which are by the members of said bridge club). At Nursing Home Reviews however, we put the work in, and we managed to find six of the most funny books to read for all you seniors out there. Without further ado, break out that Kindle, settle down in your favorite lounge chair, and get ready to laugh!
Finding the perfect nursing home is no laughing matter.
REGISTER HERE
6. You're Only Old Once! A Book for Obsolete Children – Dr. Seuss
Yes, that Dr. Seuss. See, when you're a child, they give you The Cat in the Hat and Green Eggs and Ham. Maybe The Lorax or The Butter Battle Book if your parents are feeling anti-establishment. When you graduate high school, you get a copy of Oh, the Places You'll Go! that your mom picked up from the greeting card section of the grocery store. This book is what they should give you when you enroll in Medicare. 
Written when Theodore Geisel (who despite his claims to the contrary, was neither a doctor nor a Seuss) was going through several aging-related illnesses, You're Only Old Once! transforms the sterile hospital environment into one of Geisel's most darkly whimsical settings: the Golden Years Clinic for Spleen Readjustment and Muffler Repair. As the unnamed protagonist is subjected to ever more bizarre medical tests (including having his hearing tested with a grandfather clock, multiple trumpets, a waterfall, and a live cow) you can't help but give a sympathetic chuckle. 
5. Good Omens – Neil Gaiman and Terry Pratchett
Gaiman and Pratchett are two literary powerhouses, with Gaiman being known for his Sandman comic series and works like American Gods, and Pratchett achieving renown for his long-running Discworld series of satirical fantasy novels. This collaboration, representing Gaiman's first step into the medium of novels, demonstrates why the two hold such renown in literary circles while depicting the most hilarious interpretation of the end times you'll ever read.
Aziraphale (an angel) and Crowley (a demon) have a cushy gig. Stationed on Earth since the days of Eden, the pair have taken a liking to life among humans, and have spent millennia playing a zero-sum game against one another so they can continue to enjoy mortal life while satisfying their superiors. Unfortunately, their routines are shaken up when Crowley is delivered the infant Antichrist, heralding the end of the world. The two unlikely friends hatch a scheme to postpone the apocalypse by influencing the Antichrist's upbringing so he can never decide between good and evil, allowing them to continue living on Earth. There's just one problem: they've got the wrong kid. 
The actual Antichrist, an otherwise ordinary boy named Adam, is living in a small English town, playing games with his friends, and accidentally warping the fabric of reality in a way appropriate for an eleven-year-old boy with an overactive imagination. Hilarity ensues. 
If you're looking for a self-contained story filled with quintessentially British humor, this is the book for you. 
Looking for a good omen about a nursing home?
Check ratings and violations.
REGISTER HERE
4. Hyperbole and a Half – Allie Brosh
The memoir is a medium ripe for comedy, as several other entries on this list will attest. But how many of those memoirs are illustrated in MICROSOFT PAINT?! Well, this one is.
Based on Allie Brosh's popular autobiographical blog/webcomic of the same name, Hyperbole and a Half chronicles amusing tales from Brosh's life, from childhood to the present day. Some are stories previously published on her blog with updated artwork, like "The God of Cake" or "Dogs Don't Understand Basic Concepts Like Moving". Others are book exclusives, like the tale of Brosh's unhealthy attachment to a dinosaur costume, her struggles with depression, or the time she wrote a letter to her future self and requested a reply. 
The deliberately crude MS Paint illustrations are accompanied by sharp, witty writing and a self-depreciating edge. If you've ever been a heavily sedated child, a dysfunctional adult, a dog owner, or any other iteration of human, this book will have something for you.
3. Naked – David Sedaris
David Sedaris, a frequent contributor to This American Life and brother of Strangers With Candy alum Amy Sedaris, is one of the most famous humorists of our time. Naked is a collection of autobiographical essays dealing with his childhood in North Carolina and the humorous misadventures of his youth. It's poignant, irreverent, and laugh-out-loud funny, but with a personal touch that will tug at your heartstrings. 
While Sedaris has published many, many essay collections that rank on the list of best comedy books, Naked is probably his most famous. A highlight of the piece is "C.O.G.", a tale of Sedaris's struggle with coming to terms with his sexuality, framed in such a way that you can't help but laugh along with him. Sometimes laughing is the only thing keeping us from crying, after all.
2. Bridget Jones's Diary – Helen Fielding
A defining classic of the "chicklit" genre, Bridget Jones's Diary is a modern homage to Jane Austen's Pride and Prejudice, where the Bennet family's inheritance anxieties are replaced by Bridget's fear of dying single and being eaten by her dogs, and the upper-class balls of rural England are replaced with 'tarts and vicars' parties and turkey curry buffets. Written in the form of Bridget's personal journal, Fielding's best-known novel is a glimpse into the neurosis and anxieties of the titular protagonist, every bizarre daydream and thirty-something neurosis included. 
1. If You Ask Me (and Of Course You Won't) – Betty White
Written by the Golden Girl herself, If You Ask Me (And of Course You Won't) isn't a memoir so much as it is a conversation with White herself, filled with stories about her life and her observations on aging, celebrity, love, and life. Focusing on her career from the mid-90s through 2010, each bite-sized essay from White is accompanied by photos from her long and storied life. They're perfect for beach reads, keeping on your nightstand, or any other time where you need a quick fix of White's sly humor. This is one of the best books about aging out there, and you'll want to thank Betty for being a friend every time you flip through its pages.
In all seriousness, laughter is important. Injecting a bit of joy into your life can improve your health, your mood, and your general outlook on life. That's why being happy with your living situation is so important. We can help you find the perfect nursing home or assisted living facility for your needs, comparing rating, reviews, and violations. Enter your zipcode today to begin your search!
Check out all of these nursing homes!
Get it? Because you check out books and… Alright, they can't all be funny.
REGISTER HERE