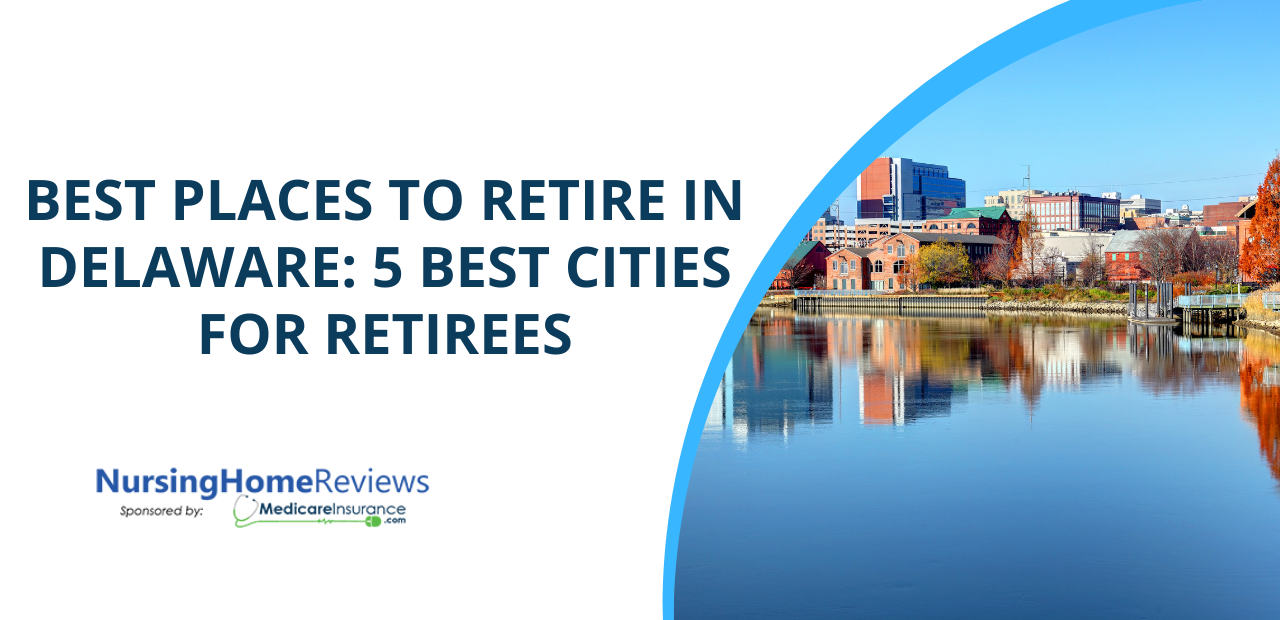 It's no small wonder that Delaware is one of the best states to retire.
With senior-friendly tax policies, mild summers, and gorgeous beaches, some of the best places to retire are in Delaware. Despite this, many people are unaware of Delaware's many charms, opting for more well-known states. It's time we change that.
Delaware is one of the few states without state or local sales tax, and Social Security benefits are also exempt from taxation. Even though the cost of living is slightly above average, the lower taxes mean there's more money in your pocket to spend on enjoying your retirement. 
The mild summers make Delaware a great place to spend much of the year, though you may want to consider a winter home to escape the chilling winters. Since many houses on this list are relatively inexpensive, that might be more likely than you think. If you want to retire to the First State, here are five of the best cities for retirees in Delaware.
5. Long Neck
Located along the gorgeous Rehoboth Bay, Long Neck offers northeastern resort town life at some of the most affordable prices in the state. The median housing price is less than $100k, and while coastal houses are more expensive, they're far more affordable than what you can find in other coastal towns. 
Tourist hub Ocean City is located to the south, providing an iconic boardwalk experience that attracts tens of thousands each year. Up north, Rehoboth Beach touts itself as Delaware's most visited city, with its own boardwalk and famous bandstand. Long Neck provides access to all of this with a much more grounded (and inexpensive) approach. After all, resorts are nice, but sometimes it's best to slip away from the tourists.
4. Wilmington
The largest city in Delaware, Wilmington, might not come to mind when picturing the best places to retire. These big urban areas tend to have great healthcare, and no shortage of culture or history. Wilmington is no exception, dripping with charm and a history older than our nation. 
However, it lacks some financial woes that come with city living. While above average for Delaware, the price of housing is below the national average, making this city a great choice for those seeking to retire to Delaware.
3. Greenville
Not far from Wilmington is the suburb of Greenville, home to President Joe Biden's private residence. While far more expensive than Wilmington proper, this suburban haven combines the advantages of cosmopolitan living with the tranquility and green spaces that this town is known for. 
The touch of the du Pont family, who shaped much of Delaware's economy and industry, can be strongly felt here in the form of museums, parks, and estates bearing the du Pont name. Be sure to take advantage of the abundance of cultural attractions nearby while you enjoy the beautiful scenery. 
Fans of Gilded Age design will love the Nemours Estate, a 77 room mansion with accompanying gardens. Alfred I. du Pont, the manor's owner, built a classical French manor with a contemporary twist, incorporating many of his own inventions into the design. How many can you find?
2. Dover
Delaware's capital is also its second-largest city, with about half the population of Wilmington. Despite the size, Dover is far from your typical concrete jungle. Expect colonial-style buildings, rolling green hills, and plenty of parks. 
NASCAR fans can enjoy the Dover Motor Speedway, while the city's two colleges are both active in college sports. With a below-average cost of housing and healthcare for the state, you could do much worse than this historic capital. 
Definitely plan on purchasing a bike if you move here, however. The First State Heritage Park connects much of Dover's historical and natural landmarks with a gorgeous cycling trail, providing a workout route like no other.
1. Newark
College towns are always a solid choice, blending a relaxed vibe with vibrant culture and nightlife. With that in mind, Newark is one of the best places to retire in Delaware. Home to the University of Delaware, Newark is filled with gorgeous parkland, giving it a natural feel. Despite this, close access to Philadelphia and Baltimore mean you're never far from the action. Be sure to visit Newark's historic Main Street, home to many local businesses and restaurants, plus some familiar chains.
Find your perfect home.
Check ratings and violations.
REGISTER HERE
No matter where you settle down, we can help. We collect reviews, ratings, and violation information on assisted living facilities across Delaware and beyond. Enter your zip code to begin your search today: it's absolutely free, and there's zero obligation.