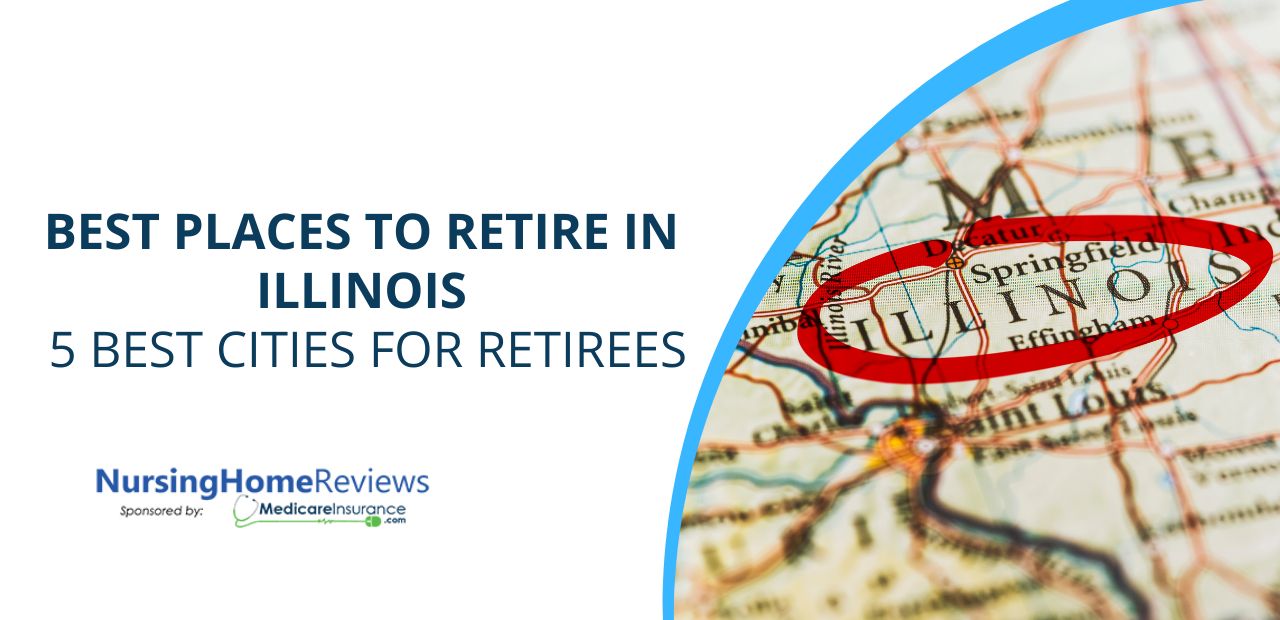 So much more than just Chicago.
When looking for the best places to retire in Illinois, your perspective might be clouded by the Windy City. After all, a city as large and as famous as Chicago tends to draw a lot of attention, but Chicago is far from the only thing Illinois has to offer. For instance, did you know that Illinois is home to Shawnee National Forest, featuring both hiking and wine trails? Not to mention the spectacular rock formations in the Garden of the Gods. Plus the state has a rich history of food, music, art, outdoor recreation, and of course, Da' Bears. 
Of course, tourist attractions aren't enough to convince you to retire to Illinois, so let's break down the numbers.
Illinois by the Numbers
In terms of cost of living, Illinois sits approximately 6 percent below the national average, seeing the biggest savings in housing. The median home price is only $241,700, though actual prices will vary depending on location. 
The low cost of living is somewhat offset by an above-average tax burden, with Illinois ranking 10th in the nation. Thankfully, the tax benefits are very friendly toward retirees: Social Security income, pensions, and withdrawals from retirement accounts are not taxed, and there are no state or local taxes to worry about. Healthcare is a bit middling, ranked 23rd overall, but less expensive than average.
In terms of the senior population, there are over three million people aged 60+ in the state, with that number only increasing. The overall population skews younger, but you'll find no shortage of peers in the region. 
With that in mind, what are the best places to live in Illinois for retirees? In no particular order, here are our top five picks!
1. Leland Grove
A suburb of the capital of Springfield, Leland Grove is top of Niche's list of best cities to retire to in Illinois. Combining the best of rural and suburban living, Leland Grove boasts lower-than-average housing and rental prices, an impeccable safety rating, and ready access to Springfield medical centers and amenities. 
On the topic of Springfield, the state's capital is an impossible-to-replicate blend of American History and nostalgic Americana. The former home of Abraham Lincoln, many of the buildings he once lived and worked in still stand. Yet, not far from those historic buildings are the roadside diners and kitschy attractions brought by Route 66, from giant pancakes to even larger lumberjacks. With all of that going on nearby, the chill vibes of Leland Grove might just be the perfect respite. 
2. Energy
Despite the electrifying name, the village of Energy is a calm little town with a population of just over 1,000 people. This former coal town is popular among families looking to purchase their first homes, as well as retirees looking for a quiet life away from the big city. 
With a median home value of approximately $115k, and a monthly rent of $669 a month, Energy might have exactly the kind of energy you're looking for.
3. Palos Hills
Okay, let's address the elephant in the room: Chicago. The largest and most populous city in the state has a lot of appeal, including hospitals, transportation, shopping, sports, recreation… but big city living isn't necessarily the best choice for retirees. That's where Palos Hills comes in. 
Ranked number one on HomeSnacks list of best places to retire in the state, Palos Hills is a Chicago suburb with a lot to offer. Though slightly more expensive than average in terms of cost of living, the city is ranked as the 4th safest place to live in Illinois which, compared to the spotty record of East St. Louis, makes it an appealing choice for people who want urban amenities while living in a very suburban environment. 
4. Riverwoods
Just an hour away from Chicago, the Village of Riverwoods was born out of a desire to live among Illinois's gorgeous woodlands. Here, most of your neighbors will be trees: lots of trees. The village has strict rules on when trees can be removed, so this isn't a spot for people who like open fields and leaf-free lawns. 
Riverwoods is popular among retirees, and the population tends to lean older than average. However, median housing prices are well above average here, at over $700k  so this isn't a place for those with light pockets. 
5. Aldeo
Located 30 minutes from the Quad Cities, Aldeo puts the "West" in "Midwest". This railroad boomtown turned Rhubarb Capital of Illinois fully embraces its historic roots, and you can see signs of the town's history everywhere you look. 
The town has an unmistakably rural vibe, with barns, farmland, and open prairie being abundant throughout the area. However, it also has a lot to offer on the numbers front: crime rates are well below average, and the median housing prices are incredibly affordable. You can rent for just over $600 a month, or buy your own home for a bit over $100k. If you want a rural feel at an affordable price, but still want access to urban amenities, Aldeo is the place for you.
Find assisted living in Illinois and beyond.
Check ratings and violations.
REGISTER HERE
No matter where you end up, NursingHomeReviews is here to help you find assisted living that works for you. Our free app (available on iOS, Android, and Web) can help you sort through the latest reviews, find official ratings, and check on any violations you need to know about. Enter your zip code today to start using the app, or find us on your preferred app store!