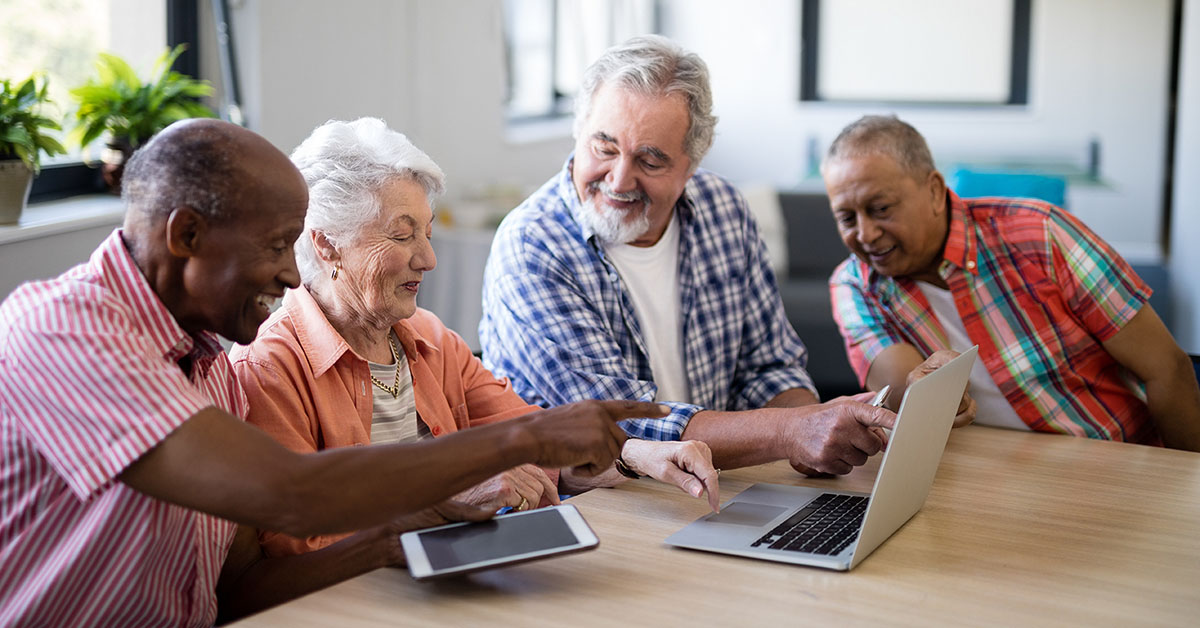 Seniors and technology don't mix, right?
Wrong! The days of assuming all seniors can't or don't want to learn about new technology are gone. Whether through their work or through their personal lives, many of today's seniors have been using computers, smartphones, and other high-tech devices for years. Although there may be a learning curve for new devices, seniors are embracing technology more than ever before.
In the year 2021, there is a plethora of technology available that may help seniors (and the loved ones who care for them) live more fulfilling lives. Courtesy of Nursing Home Reviews, here are a few great tech devices for seniors that you or your loved one may be interested in learning more about.
Search for nursing homes today!
Thanks to the advancing world of technology, you can search for the ideal nursing home from your very own living room today at Nursing Home Reviews.
REGISTER HERE
Tablets and E-Readers
A great starting point for any older adult who is looking to get more involved with technology is a tablet or e-reader. Tablets are great for seniors who enjoy social media and entertainment, as well as logic games like solitaire, sudoku, or crossword puzzles.
Tablets can be a great device for seniors who wish to video chat with long-distance loved ones, since they are usually fitted with a front-facing camera, are WiFi enabled, and have the ability to download popular video chatting apps.
For the bookworm, a compact e-reader is another great option. Today's e-readers have the ability to store hundreds of books on a single device, giving seniors their own mobile library. Many e-readers feature large, bold text with a backlit screen that makes it easier on the eyes.
In addition, e-readers are smaller and much lighter than most physical books, making them easy to grip, hold, and transport. Some e-readers are even waterproof, allowing you to read on the beach, in the pool, or in the tub.
Virtual Reality Devices
A more advanced option for the tech-savvy senior that has been becoming more and more popular lately is virtual reality. Today's virtual reality technology is realistic and immersive, making it easier to use and understand than ever before.
In fact, several up-and-coming companies, like Neuro Rehab VR for example, are developing VR technology that is specifically designed for senior health. Founded in 2017, Neuro Rehab VR provides a virtual reality experience for older patients undergoing physical therapy following a stroke, brain injury, spinal cord injury, or those who suffer from neurodegenerative diseases.
Designed to feel and operate more like a game, this company is developing customized virtual therapy exercises targeted at each patients' specific needs and ability level. These devices even record physiological and kinematic responses, providing a successful unit of measurement for recovery.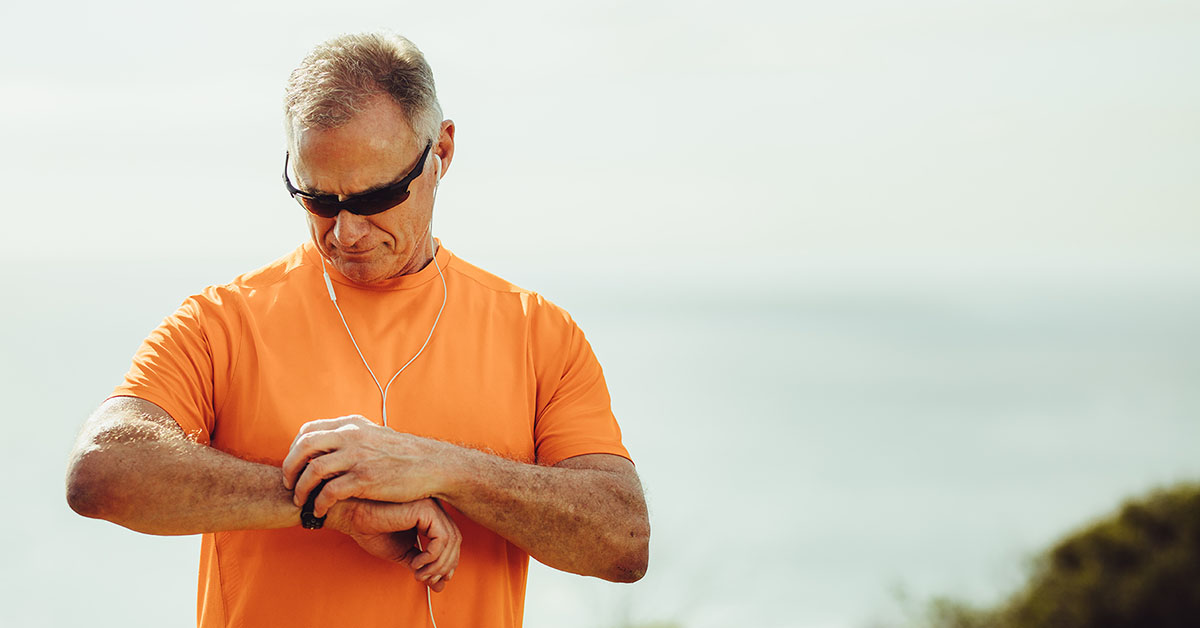 Fitness Trackers
Returning to technology of a more simple variety, fitness trackers are wearable devices that are great for seniors who like to stay active and practice physical exercise. Not only do smart watch devices like FitBits and VitalTech provide health insights and accountability for older individuals, they also are great for easy communication and entertainment purposes, like shooting a quick text to a friend or listening to music while out on a jog.
Today's wearable devices can track vitals like your heart rate, steps, calories burned, sleep habits, and much more. If you or your loved one enjoys a little friendly competition in the athletic sense, some fitness trackers can even allow you to share progress and compete with friends.
Medical Alert Systems
For some seniors, aging in place is preferred. If that sounds like you or someone you know, a reliable medical alert system can be a great investment. Medical alert systems can range from basic to high-tech in nature. Some can even keep you safe whether you're at-home or out on the town.
Typically, this type of device takes the form of a pendant that is worn around the neck or wrist, allowing older individuals to discreetly have medical assistance just fingertips away 24/7/365. When one pushes the help button on one of these devices, the wearer will be immediately connected to a call center, where they will be able to speak directly with a trained operator no matter what time of day.
Some more advanced medical alert systems can feature even more comprehensive assistance tech, like fall detection, companion apps, activity monitoring, and caregiver integration. Usually, these systems can be purchased with a one-time fee, or recurring monthly service fees.
Smart Home Devices
Smart home devices can be another great option for seniors who are interested in new tech. There are a lot of interesting gadgets under the smart home device umbrella, including smart speakers like Amazon's Alexa, Google Assistant, or Siri; smart sensors like Abode, Aloe Care Health, and FIBARO; and video doorbells like Ring, Nest, and Arlo. Let's break down some of these high-tech gadgets in more detail.
Smart Speakers
Smart speakers are handy, voice-activated gadgets that can help you do anything from learning the weather to conducting a quick internet search. In addition, these devices can set audio reminders, send calls and texts for you, play music, play games, and much more!
Smart speakers are great for seniors because they do not require any swiping or tapping. For any older individual who struggles with dexterity and tech literacy, a smart speaker can be a great choice.
Smart Sensors
Smart sensors are integrated devices that can learn about your daily routine and monitor the safety of your home. If these devices sense anything out of the ordinary, they will notify you, possibly giving you a headstart on addressing any issues.
Smart sensors are particularly useful for caregivers and loved ones, since they can be set up to send out alerts if irregular activity is detected in the home. This provides peace of mind for any older individual who lives alone and the loved ones who care for them.
Video Doorbells
Like smart sensors, video doorbells can provide peace of mind for seniors who live alone. These advanced devices can send live video feeds from your front doorstep directly to your smartphone or tablet, allowing you to see who is at your door before you open it. In addition, you can also see when packages are dropped off and will have extra deterrence against theft.
Most video doorbells also feature a two-way speaker that allows you to speak with your visitor from anywhere, whether you are on your living room sofa or half a world away. In some circumstances, you can even remotely lock and unlock your door via these nifty gadgets.
Video doorbells provide an extra layer of security and convenience. They are especially useful for seniors who have mobility issues, since it allows for homeowners to communicate and interact with visitors without ever having to get up from your seat.
Ready to find your perfect home?
You can check ratings at violations from your smart device today.
REGISTER HERE
The future is now!
As the world continues to grow and evolve, technology for seniors is becoming even more useful and commonplace. Whether it's for entertainment, safety, or communication purposes, there really is something out there for everyone!