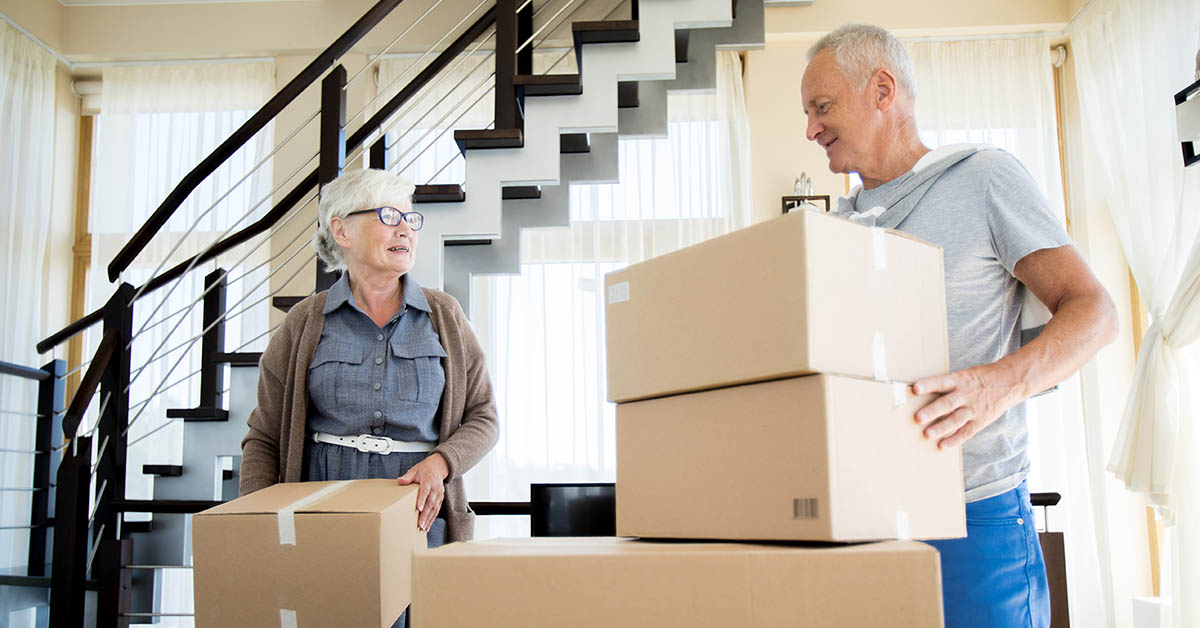 Recently retired? Now is the perfect time to downsize.
Nobody really needs clutter in their lives, and this is especially true the older we get. People go through many stages throughout their lives, from the single life, to the family life, and finally, to the retirement life. As we enter into our golden years, it often becomes perfectly clear just how little we actually need to stay healthy and happy.
Retirement downsizing can go a long way toward making your life a little bit easier (and safer) to manage. Even if you aren't moving, decluttering for seniors can make it easier to stay mobile and keep up with basic housekeeping. Unfortunately, downsizing can also have emotional and stressful connotations, especially if you dislike change and have been used to the same familiar routine for some time.
Nevertheless, downsizing can be physically and emotionally freeing. If you are looking for a little extra downsizing help, Nursing Home Reviews is here to offer our support.
Looking to relocate?
If you're looking for a more manageable lifestyle, Nursing Home Reviews can help. Start your search for the perfect senior living facility today.
REGISTER HERE
Why should I consider downsizing?
As overwhelming and emotionally draining as it may seem on the surface, most people find that proper and necessary downsizing can help them open the door to a simpler, safer, and less stressful life and environment. A few great benefits of proper downsizing for seniors include the following:
Cutting Costs
Since most retirees live on a limited or fixed income, it should come as no surprise that it is common for seniors to face some degree of financial difficulty due to unforeseen circumstances, such as healthcare costs, home repairs, and travel expenses.
Downsizing to a smaller, more affordable home can help you add a little extra cushion to your emergency fund by reducing your monthly expenses. By doing this, you can save money on mortgage payments, home insurance, utility costs, and property taxes.
Simplifying Your Lifestyle
Simple logic dictates that the fewer possessions you own, the less you are responsible for basic maintenance. Although your grandkids may love playing in the lawn and splashing around in the pool, the opportunities that you have to enjoy these things are limited as you age. 
Even aside from maintenance costs, keeping up with even simple yard, garden, and pool maintenance can become a very real challenge as you continue to get older.
Eliminating Mobility Challenges
For larger, older homes, features like stairs, multiple floors, traditional bathrooms, long driveways, and sprawling walkways can become much more dangerous for older individuals. Through downsizing, you can often find an entirely new living environment that is built especially to accommodate your mobility level. 
Increasing Overall Quality of Life and Happiness
Later in life, your priorities may change dramatically. For example, instead of prioritizing a home that is within commuting distance to the city, you may instead prioritize a home that is located in a milder climate. In fact, one recent study showed that 25 percent of older adults have plans for a warmer area in retirement.
Additionally, as you settle into a more humble, less busy life, you may become more inclined to spend your days with children, grandchildren, and other loved ones who can not only provide a whole new perspective on things, but can also lend a helping hand as you age in place.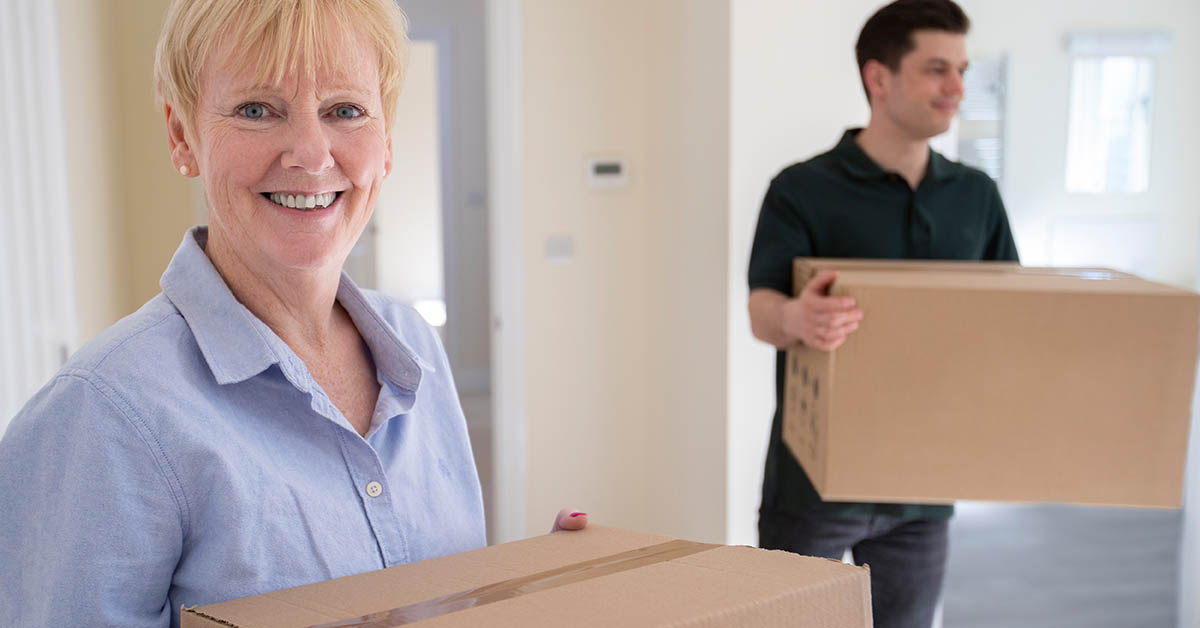 Downsizing for Seniors: What steps should I take?
When it comes time to free yourself from the heavy burdens that a lifetime of possessions can have, there are a few clearly defined steps you should take to ensure you are making the right decisions every step of the way. These steps are explained as follows:
Step 1: Evaluate your reasons for wanting to downsize.
The first step to achieving a decluttered lifestyle is to have an open, honest conversation with yourself about why downsizing might be a good option for you. 
Take a look at the possessions you have and the current lifestyle you live. Do you have unused rooms? Do you feel isolated? Do you feel like you have too much to manage? If you answered "yes" to any of these questions, you are likely to benefit from downsizing.
Step 2: Create a reliable system for letting go of belongings.
Once you have decided that it is time to downsize, you may start to have reservations about sifting through your prized possession, cherished belongings, and priceless memories. However, this can easily be overcome by establishing a reliable system that will simultaneously allow you to simplify your space, organize your possessions, and reduce your emotional attachment to some items.
Most experts advise a three-pronged organizational system: keep, toss, or give away. In a good, decisive system, there is no "maybe" pile. For items that you decide you wish to keep, try to come up with a handful of truly good reasons for why you decided the object of question should stick around.
If you can't bear the thought of simply discarding something, you always have the option to donate it or to give it to a friend or loved one.
Step 3: Consider what you want in a new living space.
As stated, relocating to a smaller living environment has many benefits. That said, it is important to heavily consider exactly what you need to have in your new abode. Whether it be a small apartment, a house that is sized just right, or even an assisted living facility, retirement community, or nursing home, be sure that your new living space meets your requirements for mobility, safety, comfort, and social relationships.
Step 4: Consider getting some help from loved ones and professionals.
Deciding to downsize is a very personal experience that is intended to benefit no one other than you and the people you care about the most. That said, in no way, shape, or form should you go at it alone.
During the process, even after organizing your possessions using your own personal system, you may still need a place to store larger, more valuable, or more personal items. In this regard, storage and moving facilities can be a big help.
Furthermore, cherished loved ones whom you thoroughly trust may be more than willing to keep a watchful eye on important possessions that you do not wish to be in charge of looking after.
Downsizing is right-sizing. How can Nursing Home Reviews help?
At Nursing Home Reviews, you can check ratings and violations for hundreds of local assisted living facilities, retirement communities, and nursing homes in order to find the ideal living situation for you.
REGISTER HERE
While the emotional strain of downsizing can often be particularly rough for seniors, it does not have to be. With appropriate planning and organizing, you and your loved ones are likely to have a hassle-free transition and a much more reasonable load to manage.
For additional tips regarding downsizing for seniors, decluttering for seniors, and more, don't hesitate to explore Nursing Home Reviews even further.