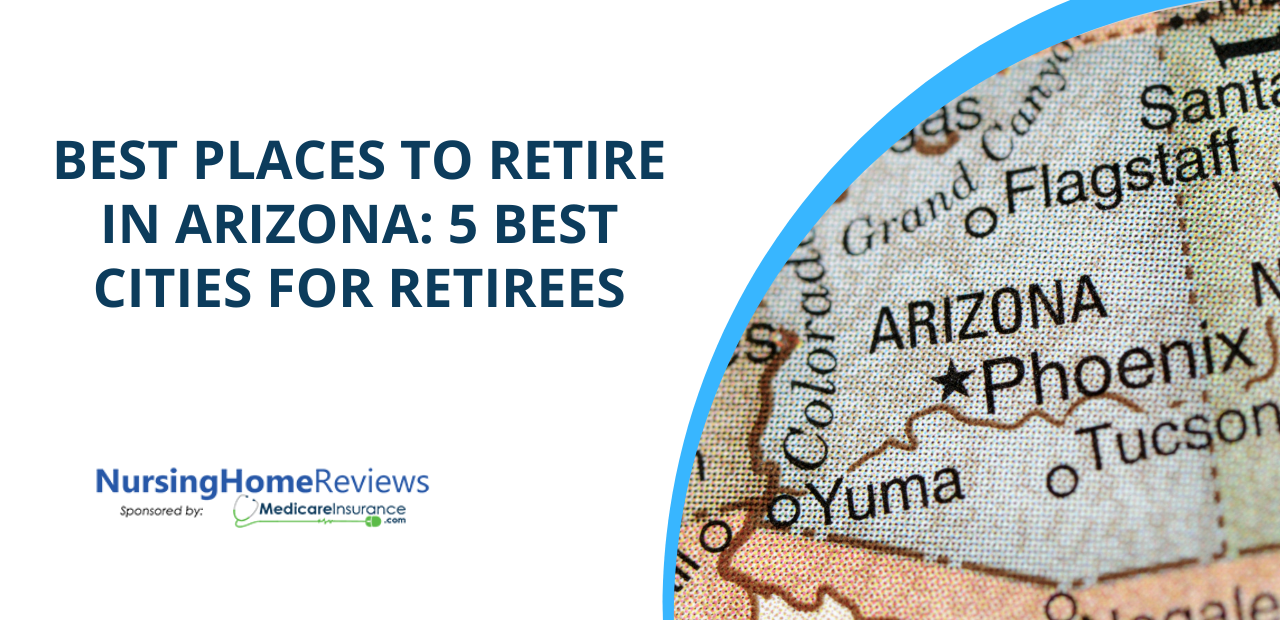 The Desert is Calling, and I Must Go
If you follow us here on Nursing Home Reviews, you've likely kept up with our recent series documenting the best places to retire across the United States. From the sunny coastal lands of Florida and California to the bucolic country charm of North Carolina, there's a new place out there for you if you're looking for it.
But what if you're looking for a desert paradise? A place where it's warm nearly all year round, with plenty to see and do? If that's your kind of place, perhaps it's time to retire to Arizona.
When most think of Arizona, they tend to think of desert sands and serious heat. In reality, the climate is comfortably warm, and Arizona's cities and towns boast a lot of activity, which is perfect for those of you out there who live an active lifestyle. To make the picks on our list of best cities to retire in Arizona, we used the following criteria:
Cost of Living

Access to Medical Care

Quality of Life

Nearby Activities
Read on to learn more about the five best places to retire in Arizona.
Find a retirement community or nursing home in Arizona that meets the needs of you or your loved ones.
Check for ratings and violations today.
REGISTER HERE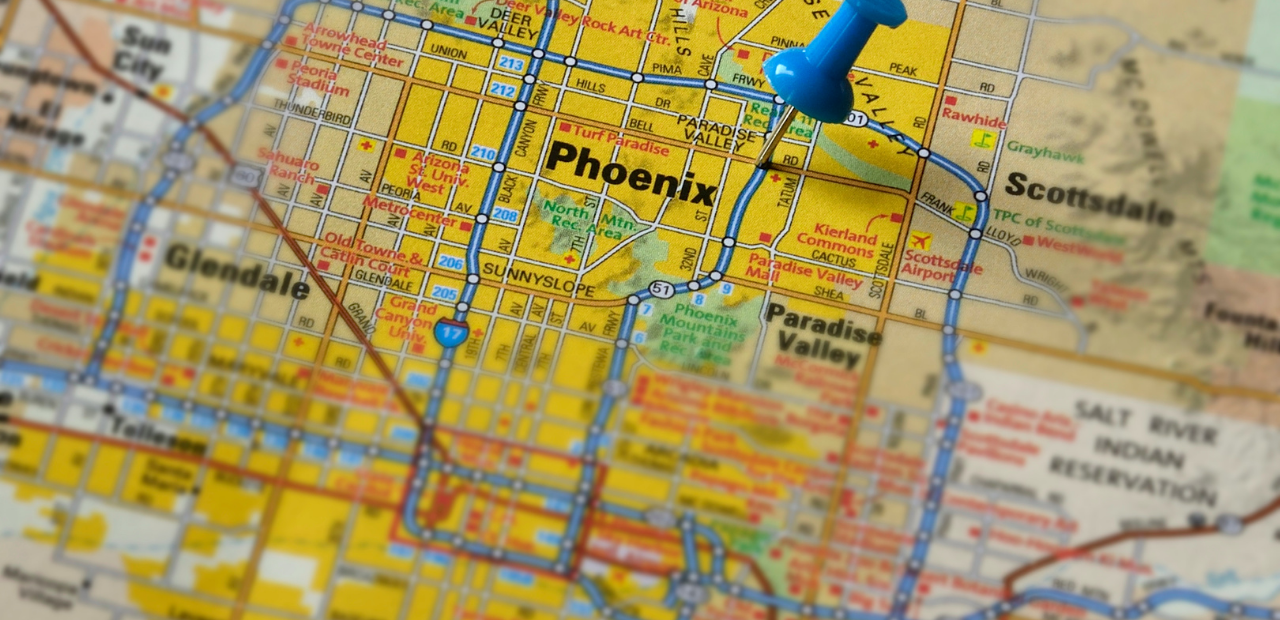 5: Phoenix
Our list of the best places to retire in Arizona starts with the capital city, Phoenix. If you're looking for vibrant city life with plenty of culture and natural beauty to spare, consider calling Phoenix your new home! 
If you like to keep active, you'll find no shortage of things to do here. Love to golf? You'll find over 200 first-class golf courses in the Phoenix area alone. For those of you who love hiking or nice, brisk walks, area parks and trailheads such as South Mountain Park and Preserve and Estrella Mountain Regional Park offer plenty of activity for hikers and walkers of any level.
When you're considering the cost of living in the best cities to retire in the country, you can't get much better than Phoenix. The cost of living in Phoenix is lower than it is in 50 percent of cities in the United States. However, if you're looking to buy a home here, you'll need to have quite a bit in the bank: the median sale price for a home in Phoenix is $438,000. It's a little less expensive to rent, with the cost of an average rental property sitting around $1,547. If you're looking to offset the burden and cost that comes with maintaining a house or apartment, a move to Phoenix may provide you with a great opportunity to downsize and enjoy living in a retirement community.
Finding excellent medical care is very important when you're looking at the best places to retire anywhere. Phoenix has you covered on the healthcare front with a variety of hospitals and providers to choose from, including:
Mayo Clinic Hospital Phoenix.

HonorHealth Sonoran Crossing Medical Center.

OASIS Hospital.

Select Specialty Hospital – Phoenix.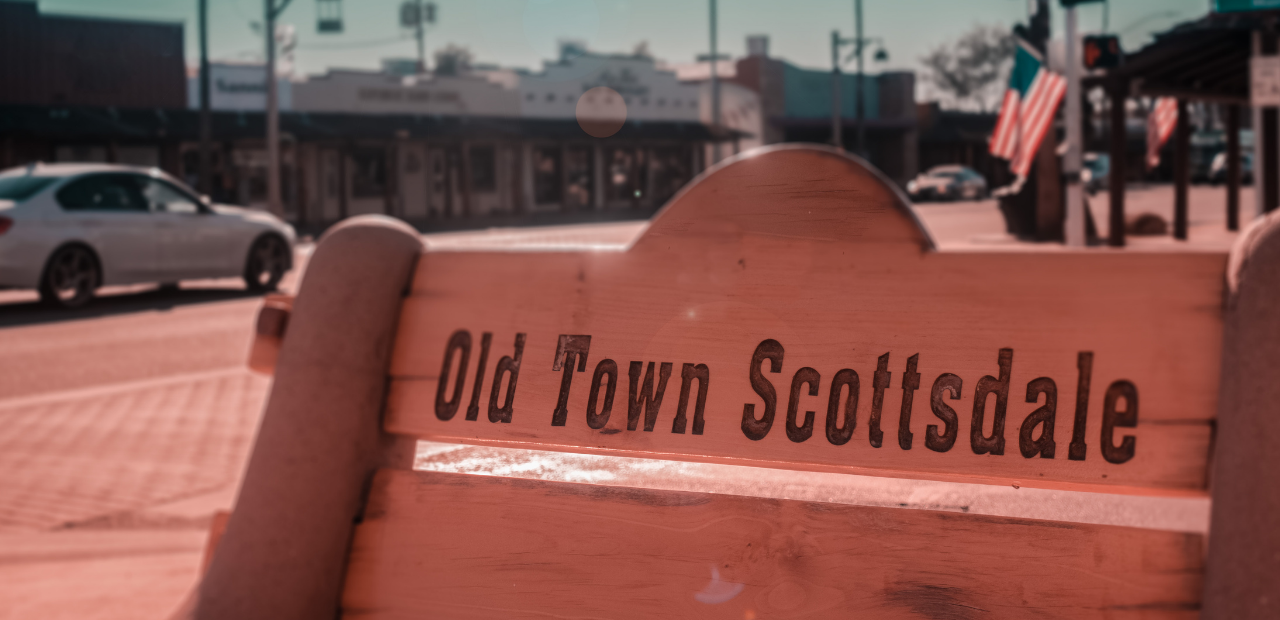 4: Scottsdale
When you're looking for the best cities to retire to in the country, you can't really get much better than Scottsdale. This Phoenix suburb offers a big city feel within the comfortable confines of a laid back suburban environment.
Scottsdale offers plenty of opportunities to keep healthy and active, with a wide variety of walking trails and opportunities for hiking. You can challenge yourself, for instance, with challenging hikes that reward you with breathtaking views at Camelback Mountain or Papago Park. 
If you prefer casual strolls in cooler environments with amazing sights, check out one of many museums in the area, from the Penske Racing Museum to the historic Cave Creek Museum. After a long day of activity, you'll find plenty of opportunities to relax at several wineries, or you can take some time to treat yourself at one of Scottsdale's fine shopping centers.
The one sticking point that may dissuade you from looking at life in Scottsdale as a reason to retire to Arizona is the cost of living. Scottsdale's cost of living score is 133.2, almost 34 points higher than the national average. The cost of housing here is especially high, as a single-family home here averages around $501,068. To rent, you'll find yourself paying around $1,570 for a simple apartment. 
If your heart is set on Scottsdale, but you don't want to pay a mortgage or deal with the upkeep of running a house anymore, there are numerous excellent retirement and senior communities in the area that will welcome you with open arms!
Scottsdale offers plenty of access to quality medical care as well. You'll be within driving range of a number of top-rated hospitals, primary care physicians, and specialists. Some of your options for healthcare in Scottsdale include:
The HonorHealth family of hospitals.

Scottsdale Emanuel Hospital.

Scottsdale Medical Center.

Aveon Health.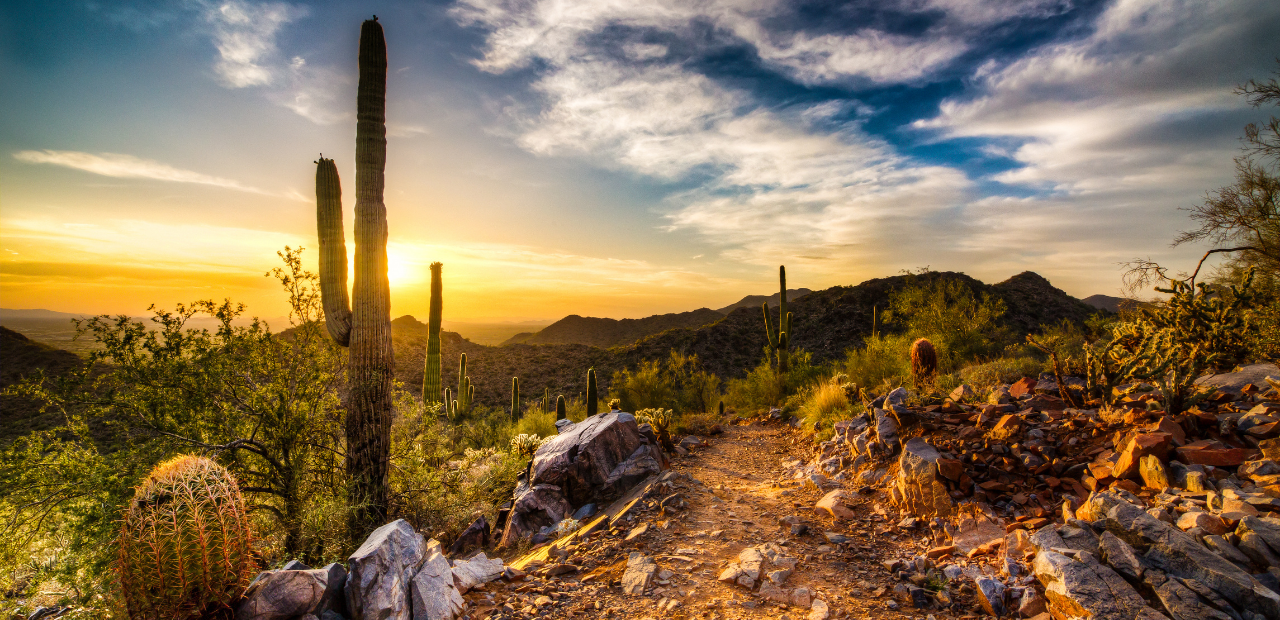 3: Green Valley
In Southern Arizona, you'll find a lovely gem of a town that's a hit with seniors. In fact, it was founded as, and continues to function as, a retirement community. Green Valley is a town that knows its demographic, making it one of the best places to retire in Arizona.
A huge part of what makes Green Valley one of the best places to live in Arizona for retirees is what it offers in sheer activity. As an active senior, you'll find plenty of good hiking and walking at one of several area parks, including Coronado National Forest and Desert Meadows Park. Avid golfers will likely take up residence at one of several golf clubs in the area, and you can't beat the other sightseeing, dining, or shopping options that Green Valley has to offer.
The lower-than-normal cost of living also makes Green Valley a perfect option for retirees. At 91.5, the cost of living in Green Valley is nearly 10 points lower than the national average. Buying or renting a house is still costly, with the average median sales price of a house sitting at $337,696 and the average cost of monthly rent sitting at $1,058 a month, but those prices are still lower than housing costs in Phoenix or Scottsdale. You also have your pick of over 26 retirement and senior communities in the area if you're looking to just kick back, relax, and enjoy life.
When you're looking for quality healthcare, you'll find that Green Valley boasts plenty of providers to meet your medical needs. With numerous top-tier hospitals, primary care physicians, specialists, and provider groups such as Carondelet Medical Group, FasTrac Urgent Care, and others in the area, you'll be well taken care of in Green Valley.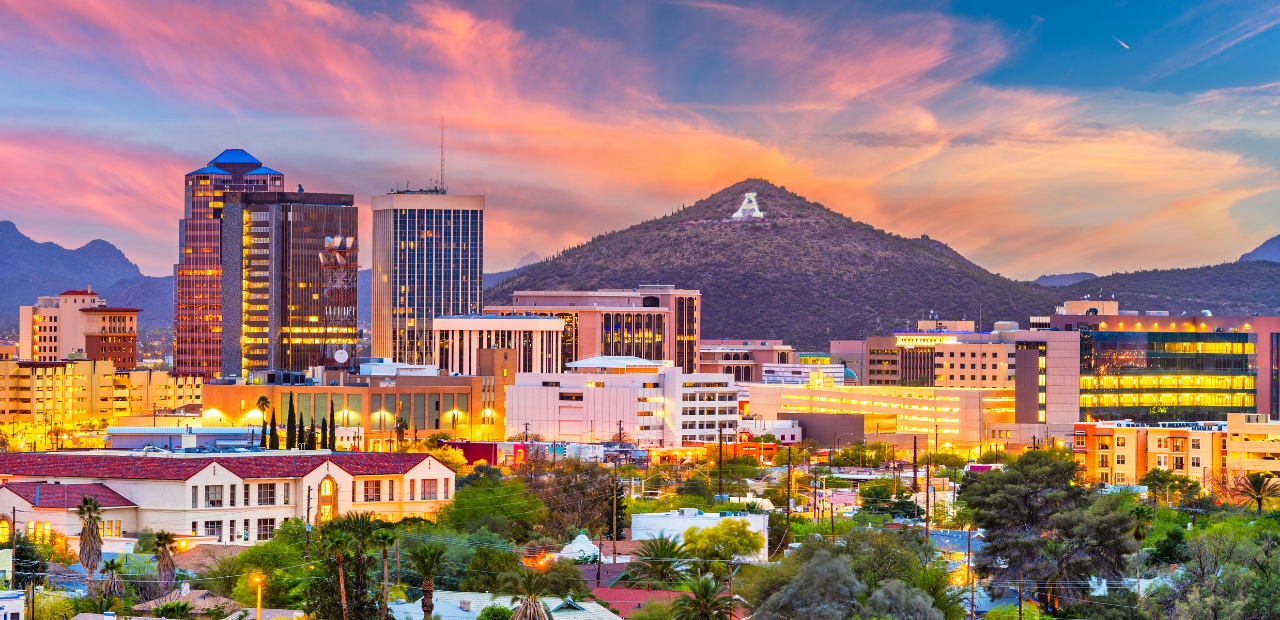 2: Tucson
Do you enjoy city living, but aren't exactly keen on living in the city? Tucson offers the best of both worlds for those of you looking to retire to Arizona. Nestled between the bustling metropolis of Phoenix and the quaint community of Green Valley, the dual charm of Tucson is what makes it one of the best places to retire in Arizona.
Seniors who find their way to Tucson find plenty of ways to keep fit and active. Saguaro National Park, Sabino Canyon Recreation Area, and Tucson Botanical Gardens offer winding trails with plenty of sightseeing opportunities. Film buffs might enjoy a trip to the old film set turned theme park in Old Tucson, and the Arizona History Museum offers a trip back in time for all of you history buffs. Of course, there's plenty more sightseeing, shopping, and dining to experience in the area as well!
Compared to other cities in Arizona, you'll find the cost of living in Tucson to be relatively low. Tucson ranks at 91.6 on the cost of living index, nearly 10 points lower than the country and 12 points lower than Arizona itself. The cost to buy or rent a house in Tucson is relatively affordable, with median costs coming in at $277,600 to buy and $870 to rent. Tucson is also home to numerous top-rated senior and retirement communities for those of you looking for a change of pace.
Worried that Tucson won't be able to meet your needs for medical care? Don't be. Tucson offers ample healthcare from some of the best hospitals and providers in the state. If you need a hospital, The University of Arizona Medical Center and Tucson ER & Hospital are just a quick drive away. You also have plenty of options if you're searching for a new primary care physician or specialist.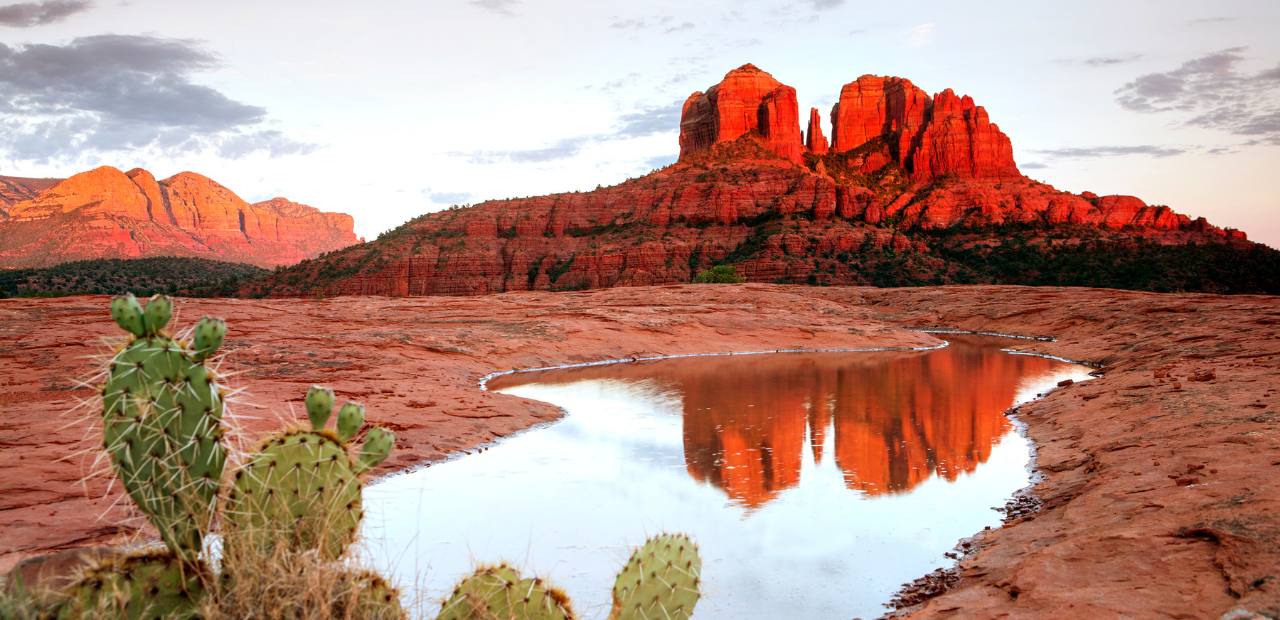 1: Somerton
Last on our list of best places to retire in Arizona, but certainly not least, is a small town that borders Mexico. Somerton isn't the biggest area, but that may be perfect for those of you who consider the best cities to retire in the country to be the quietest places. With that said, Somerton still offers plenty for active seniors.
You'll find plenty of trails and hiking here, with plentiful sand dunes (for Star Wars fans, some of those dunes you're hiking were featured in Return of the Jedi) and any number of parks and trailheads. Perricone Park offers ample space for joggers, and the Muggins Mountain trail poses a challenging, yet rewarding, hike for even the most active of seniors. You won't find much in the way of shopping, but there are plenty of wonderful dining opportunities, and you can even try your luck at the nearby Cocopah Casino.
The cost of living in Somerton is perhaps the lowest on our list, with an index score of 89.2. This is well below the averages for both Arizona and the United States! If you're looking to buy a new home, Somerton delivers the best opportunity to find something nice and affordable. The median home price here is $259,712, and the median monthly cost of rent is around $820.
You'll also find plenty of top-tier healthcare providers in Somerton. From top-rated hospitals, like the Regional Center for Border Health, to a number of providers including primary care physicians and specialists, you're in good hands in Somerton.
Still Looking For Your Own Perfect Place to Retire?
Of course, your idea of some of the best places to retire in Arizona may not be the same as ours, and that's okay! Everyone has their own idea of the perfect place to retire. Our hope is that you at least found some great options for your perfect new home.
Looking to join a senior community in Arizona?
Start your search today for your perfect home.
REGISTER HERE