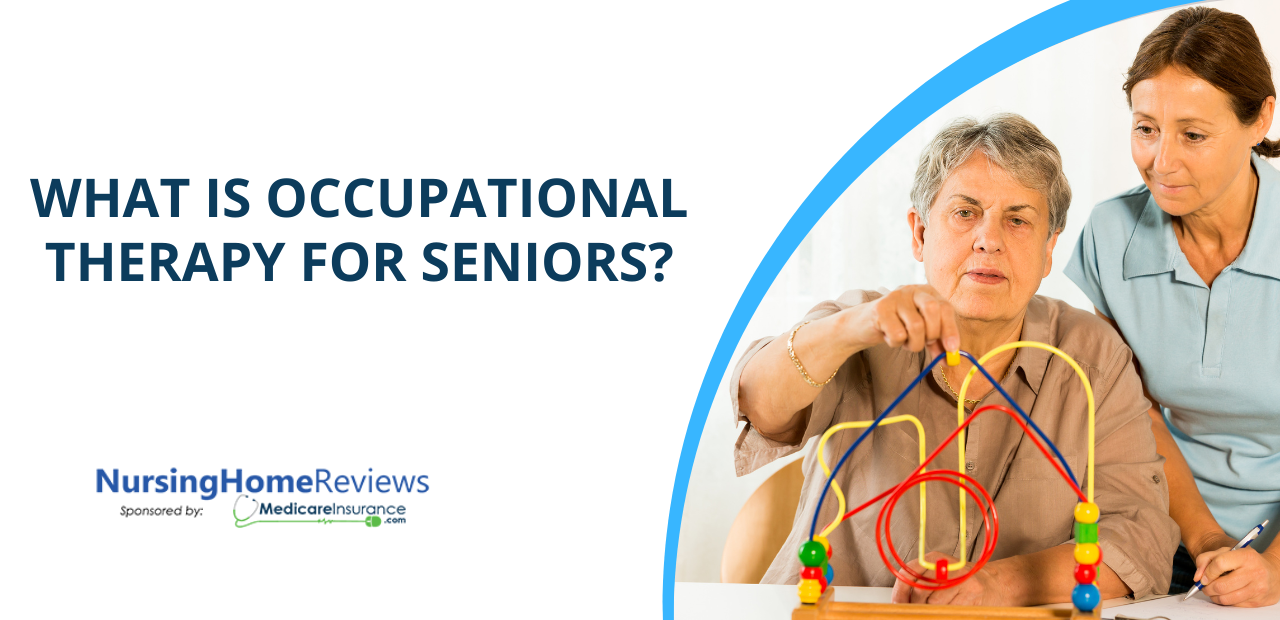 What is Occupational Therapy?
Occupational therapy is a very important part of managing the symptoms of many senior health issues. If you've never had occupational therapy before, you may be asking, "What is occupational therapy?"
Occupational therapy, also known as OT, is a type of therapy designed to help people at any stage of life develop, maintain, or regain skills needed to perform activities of daily living (ADLs). Therapy plans are designed to meet a patient's specific needs. If you suffer from Parkinson's, your OT plan will look different from that of a patient with Dementia, or a patient who suffered a fall.
The importance of occupational therapy for seniors who deal with serious health issues cannot be understated. Occupational therapy for seniors can help you regain a level of independence that you likely felt you had lost. Being able to perform even the simplest ADLs is a big deal for seniors who feel that they have lost their ability to do so, and occupational therapy may help you regain that ability. 
In this article, we're going to talk about occupational therapy for seniors and the many benefits that it can yield.
Are you looking for a senior living facility where you or a loved one can receive proper occupational therapy?
REGISTER HERE
Occupational Therapy Can Help You Overcome Struggles With Everyday Life
A key component of occupational therapy for seniors with health issues is to help you overcome challenges you face in your daily life. Normal ADLs become an obstacle for seniors who deal with certain conditions, such as:
Forms of dementia

Alzheimer's

Parkinson's

Debilitating injuries

Vision and hearing loss
When ADLs become an obstacle, it makes you want to give up on trying to do anything at all. This often leads to self isolation, which can quickly lead to depression. 
Occupational therapy is crucial to helping you overcome the struggles you face in performing ADLs while dealing with a chronic medical disorder. For those of you who are still working to live independently with chronic medical issues, home health occupational therapy offers the convenience of taking part in occupational therapy at home. A dedicated occupational therapist will help you maintain your independence by teaching you how to perform exercises that will make it easier to complete ADLs.
Whether you take part in occupational therapy at home or in a dedicated senior living facility, you'll find it to be a great help in performing everyday activities. It will help you rebuild:
Your basic motor skills

Your strength and dexterity

Your range of motion

Your overall mobility
Occupational Therapy Helps You Prevent The Occurrence of Dangerous Falls
Each year, one in four Americans over the age of 65 has a fall. It doesn't seem like a big issue, but taking a fall at an advanced age can cause serious bodily harm. Thinking of yourself or a loved one suffering a debilitating injury as a result of falling with no one around to help can be terrifying.
By enrolling in occupational therapy at home or in a senior living facility, you'll be taking proactive steps to avoid potentially dangerous falls. Occupational therapists teach a variety of methods to prevent falls, and can help you learn balancing and muscle exercises to help you stay fit and alert.
Occupational Therapy Provides a Boost to Memory and Mental Health
Losing physical and cognitive abilities as a result of certain medical disorders can make you feel like there's no use in trying anymore. That can take a serious toll on your mental health, leading to feelings of depression. Giving up can feel like your only option, but in reality, it is not.
There are many positive links between occupational therapy and mental health. Mental health occupational therapy not only works on the body, but it works on the mind as well. Occupational therapists will work to restore your confidence in yourself with a variety of exercises that will help you build a new sense of determination to make the most of your golden years.
Mental health occupational therapy is also designed to provide a boost to your memory and cognitive abilities. Occupational therapists use a variety of exercises and techniques to help strengthen your cognitive abilities, such as:
Using puzzles and games, such as crossword puzzles and matching games, to help enhance memory.

Placing stop signs on doors and gates for patients who are prone to wander.

Teaching caregivers how to deal with personality changes and use techniques that will not further confuse memory, such as placing a limited number of clothing options for the proper season.
The positive correlation between occupational therapy and mental health is too strong to ignore. If you're feeling hopeless and isolated because of limiting medical conditions, enrolling in occupational therapy can give you a much-needed mood boost.
Occupational Therapy Can Help You Live a More Independent Life, No Matter Where You Are
Whether you live in a senior care facility and are enrolled in occupational therapy, or you receive occupational therapy at home, the fact remains that occupational therapy can create positive changes in your everyday life.
If you or a loved one are still living at home, the role of an occupational therapist goes further than simply teaching you exercises to maintain an independent lifestyle. They can also suggest and teach you how to use certain modifications to your home that further promote independence, such as:
Monitoring alert systems

Grab bars

Power lift recliners

Slip-resistant floors

Wheelchair ramps
If you or a loved one currently reside in a senior care facility, occupational therapy can help you maintain a life that's as similar to the one you had when you lived at home as possible. With a mix of mental health occupational therapy to relieve anxiety, depression, and cognitive issues, and exercises to help you maintain physical mobility and strength, occupational therapy can help you or your loved ones regain a level of independence that you or they never thought they would have again.
Find a senior living facility with a highly-regarded occupational therapy program.
Check ratings and violations.
REGISTER HERE